Tips on How to Host the Perfect Christmas Party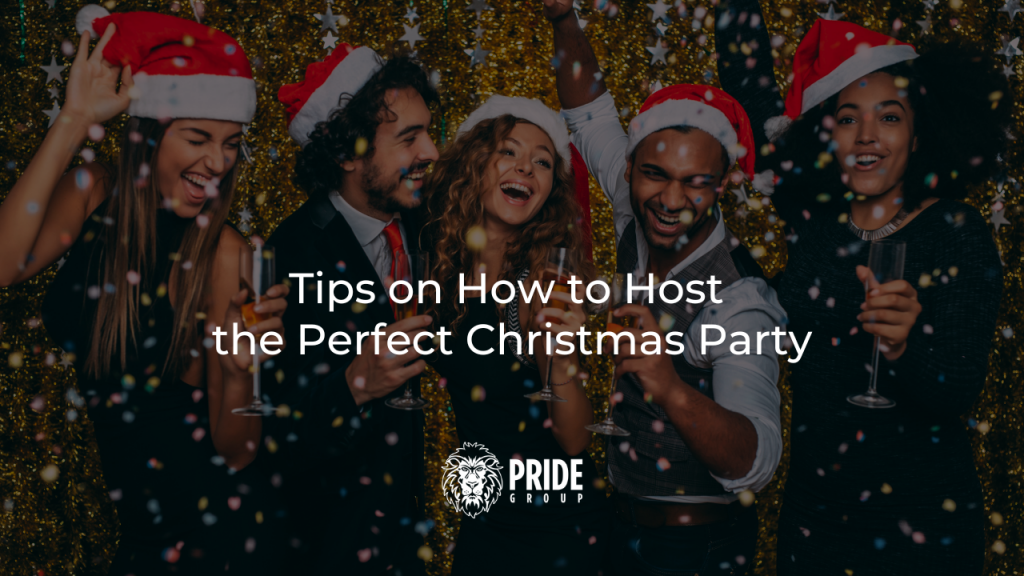 Christmas is a time to celebrate the birth of Jesus Christ. It is a time to come together with family and friends and enjoy food, gifts, and fellowship. Christmas has been celebrated for centuries and has taken on many different meanings for different people. For some people, Christmas is a time to celebrate the birth of their Savior. For others, it is a time to reflect on the blessings they have received over the past year. But for most people, it is a great occasion to gather with loved ones and create special memories that will last a lifetime.
And now that Christmas is coming along, it is time to throw a party with your family, friends, or colleagues! And since you only have one chance a year to create a memorable and enjoyable Christmas event for everyone, it is only natural that you might find it intimidating at first. But do not worry, we have put together a guide on event organizing and management to make sure that you have some guidelines to follow for your perfect Christmas party!
When you are going to host any kind of public event, these are the general points that you should consider:
·        Come up with a plan by initially asking yourself; what kind of event do you want to organize? What are your goals? Who is your target audience? Once you have a plan in place, you can start booking venues and arranging logistics.
·        Venue selection is important – you want to find a space that is big enough to accommodate your guests, but not so big that it feels impersonal. It is also important to find a venue that is accessible and affordable.
·        Once the venue is booked, it is time to start planning the details. What kind of food and drinks will you serve? What entertainment will be there? How will guests be able to get around? Will there be any special activities or displays?
Moving on to organizing a Christmas event where many people come together to celebrate. For event planners, this means putting on a public event that will be enjoyed by all. Whether you are organizing a small family get-together or a large-scale celebration for the organization or company, there are a few key things to keep in mind:
1. Plan the event management
The first important step is to determine the purpose of your event and what you hope to achieve. Once you have a clear idea of your goals, you can start planning the logistics of the event. This includes figuring out how much space you will need, what kind of decorations or themes you want, and what kind of activities you will have. It is important to make sure that everyone who attends will have something fun to do, so be sure to include a variety of activities that everyone can enjoy. If you are hosting a large event, it is also important to make sure that things run smoothly. This means setting up a schedule for the day, arranging for food and drinks, and making sure that everything is set up correctly. And if you are organizing for the company, the success of any event depends on effective marketing and promotion. Make sure to create an eye-catching event poster and distribute it online and in print form. And lastly in terms of overall management, by planning ahead and organizing everything properly, you can ensure that your event goes off without a hitch.
2. Create a timeline
There is a lot of work that goes into putting together an event. While everyone might think that the planning stage is the most important, the execution and follow-through are just as critical. That is why it is important to have a schedule and timeline for your event. This will help ensure that everything runs smoothly and on time. Your schedule should include all of the details for your event, from when to set up to when to break down. It should also include a detailed timeline, which outlines what needs to happen and when. This will help you stay on track and make sure that nothing is missed. One of the most important aspects of event organizing is creating a timeline. By having a detailed plan of action, you can avoid any surprises or delays during your event. The schedule and timeline should be tailored to your specific event, so make sure to take into account all of the details beforehand.
3. Work on the guest list
You cannot have a party without guests! So, this important step is to make a list of everyone you want to invite. If you are unsure about how many people you can fit in your space, make a rough estimate, and then add a few extra people just in case. And since your time schedule is finished during the previous step already, it is time to create and send out invitations! You can either hand-deliver them or send them electronically. Just make sure to include all the important information like the date, time, and address of the party.
4. Get into the festive spirit with decorations
No matter what kind of party you choose, make sure to set the mood with some Christmas decorations. Start by using Christmas lights to create a festive atmosphere; hang them around the windows, in doorways, or anywhere else you can think of. Hanging ornaments from the ceiling can be a great way to add some holiday cheer. Next, using artificial Christmas trees instead of real trees can save you from having to deal with needles and sap on the floor. Then decorate your windows with wreaths, garlands, or other holiday decorations. And lastly do not forget to make use of space-saving decorations like Christmas stockings and advent calendars.
5. The delicious meals
One of the most common traditions associated with Christmas is eating a big meal with family and friends. If you are looking for ideas on how to prepare a delicious Christmas feast, here are some tips, starting with roast turkey, one of the most popular Christmas dishes. To make sure your turkey comes out moist and juicy, it is important to use a meat thermometer to check the temperature. Another great option for your main course is ham. For a festive twist on this traditional dish, try using a glaze made with honey, mustard, and cloves. When it comes to side dishes, there are plenty of options to choose from such as roasted brussels sprouts, cheesy garlic mashed potatoes, and cranberry sauce. And desserts are a must! Some sweet treats that would be perfect for Christmas include pumpkin pie, gingerbread cookies, and eggnog cheesecake. With so many delicious options available, there is something for everyone at the Christmas dinner table. That being said, if you are responsible for putting on the Christmas feast, it can be a lot of work which may seem daunting at first. But do not worry, we are here to help.
·        The first step in organizing a Christmas feast is deciding on a date and time. Once you have set a date and time, you need to start planning the menu. The menu should include both traditional and nontraditional items so that everyone can find something they like.
·        Once the menu is finalized, it is time to start scheduling and planning the logistics of the event to ensure the mealtime's flow. You will also need to decide on a venue and send out invitations. And if you are serving a large number of people, you might have to consider making arrangements for catering or buffet-style service.
6. Prepare for the unexpected
Finally, it is important to plan for the inevitable mishaps that can occur during any large event. Make sure you have plenty of backup food and drinks, as well as extra plates, utensils, and napkins. And do not forget to have some fun games and activities planned for guests who want to take a break from eating!
On the day of the event, make sure to greet guests warmly and ensure that everything is running smoothly. Be prepared for any questions or problems that may arise. Thank guests for their attendance once the event has concluded and send out follow-up emails with photos from the event.
Hosting a successful Christmas event can be a lot of work but it can also be a lot of fun. With careful planning, you can ensure that your Christmas feast is both delicious and stress-free. Merry Christmas!