Here's How to Pick the Best Wedding Venue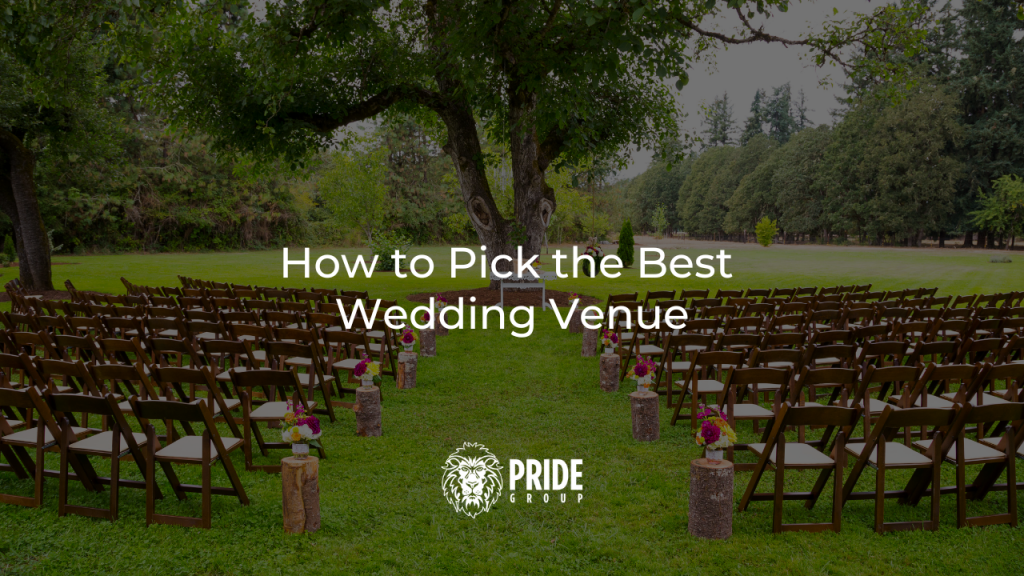 While almost every component of a wedding is optional, from wearing a suit instead of a gown to skipping the flowers to skipping the wedding cake, one thing cannot be skipped: the venue. After all, you need a place for your friends and family to congregate and celebrate.
However, locating the ideal location is difficult. There are numerous possibilities available, whether you choose a gorgeous barn, an opulent ballroom, a charming café, or a peaceful stretch of coastline. So, we asked a few wedding planners for their best advice on selecting the perfect venue.
Consult with a Planner.
Yes, before you begin looking at empty places. "Planners are considerably more familiar with a space's possibilities, layout, and the time and goods needed to truly convert it," explains Alliey Kline-Weichelt, lead planner and CEO of Alley & Co. in Green Bay, Wisconsin. Your planner will be aware of any inventive ways to make it unique, as well as any quirks about the space that may make your idea difficult to realize.
Choose a Location that fits your vision.
"This may sound simple, but look for locations that match your taste," says Kait Costanti, co-owner and creative director of Bash in Bozeman, Montana. "For a modern wedding, consider art galleries, well-designed eateries, or warehouse locations." A wedding with more natural themes, on the other hand, works well with outside sites such as parks, backyards, and ranches. Choosing a venue that complements (and enhances) your theme will help your wedding feel more connected to the location."
Know your Guest List
"Knowing how many guests you're intending to invite before you go looking at venues will help you save problems and heartaches down the line," says Holly Patton Olsen, owner of Seattle's Perfectly Posh Events. "You may find yourself in a difficult situation if you choose a venue that is too small for your guest list and more guests RSVP 'yes' than you can fit in the room." Couples frequently misjudge how many people they will invite (or how many their parents will want to invite), so have that chat early on to know what you're up against. "This will also help you break down your budget," Olsen explains, "since some prices are quite reliant on the number of people you're inviting."
Keep Your Budget in Mind
"It's more than just how much renting the room will cost," Kline-Weichelt says, noting that venues with in-house catering (such as hotels) will charge a price-per-plate. "Decoration and flower design will also increase the cost." Understand your overall budget as well as the approximate cost of executing your design. If adding it to the expense of using the space blows your budget out of the water, you'll need to either scale back your design or hunt for more economical options. "Break down your overall budget by category, allocating more dollars for vendors who have a greater priority," Olsen adds. If you choose your venue first and then learn it costs more than you expected, it will be difficult to stay inside your budget when you still have a dozen other people to hire."
Not sure how prices work in your area? Consult a local planner for information that is more precise than the national averages that are frequently obtained online.
Consider Your Guests' Experience
"If you're planning a destination wedding or inviting a lot of out-of-town guests, search for a venue near (or linked to) a hotel," adds Kline-Weichelt. "Remember their comfort within the venue as well." The maximum capacity of a room isn't always a suitable amount of space, so ask the venue how many people they can comfortably hold, as well as what the fire code allows."
Consider What Is Included
"If you're looking at full-service venues as well as places where you can bring in your own vendors and décor, make sure you price everything out," adds Olsen. "A venue that includes tables, chairs, and linens may cost more upfront than a venue that requires you to hire your own, but you should get an estimate from a rental firm to see how they compare when you factor in the cost of renting things for yourself."
Also, keep in mind that the included rental goods are frequently more basic (white linens, standard flatware, banquet chairs, etc.), so you may end up paying extra to hire items that better fit your vision.
Also, if you're working with a venue that has in-house catering with a food and beverage minimum, remember to include in tax and gratuity. For example, in Seattle, sales tax is 10%, so I advise my customers to add at least 30% to the food and beverage minimum to accommodate for tax and a 20% tip. That brings the minimum from $10,000 to $13,000."
Stay True to Yourselves
"With the rise of Pinterest weddings, many couples chose venues based on the style of a wedding they saw online," says Costanti. "However, it's critical to ask yourselves what seems real to you two as a couple, and to choose a space and style that reflects who you are." And keep in mind that while a location may have looked stunning with a different theme or design plan, it may not be the ideal canvas for yours.