COVID-19 Disaster Resources
Pride Group provides its Clients with a single source for turn-key services. Regardless of size – from a local flood to a major wild fire or hurricane - Pride Group has the assets and experience to exceed your expectations.
Pride Group has the resources to provide the perfect turn-key temporary medical facility space to treat and screen COVID-19 patients.
Pride Group carries a variety of sizes of engineered temporary clearspan structures, and these clearspan structures are made of fire-resistant vinyl fabric and are engineered to withstand weather conditions.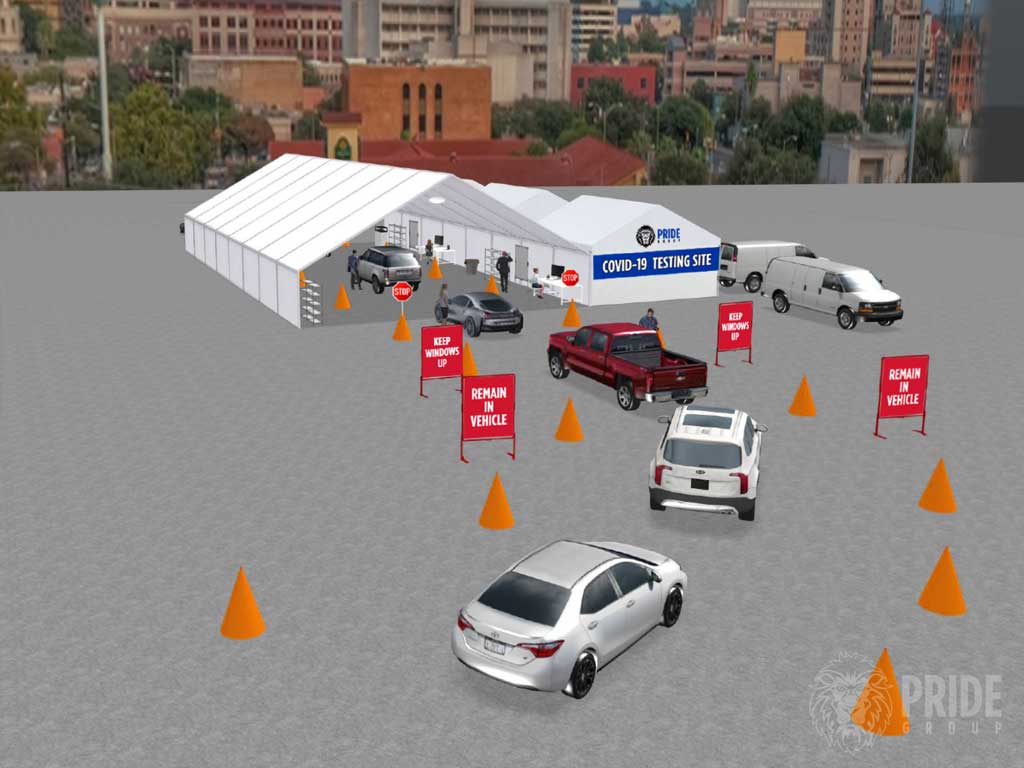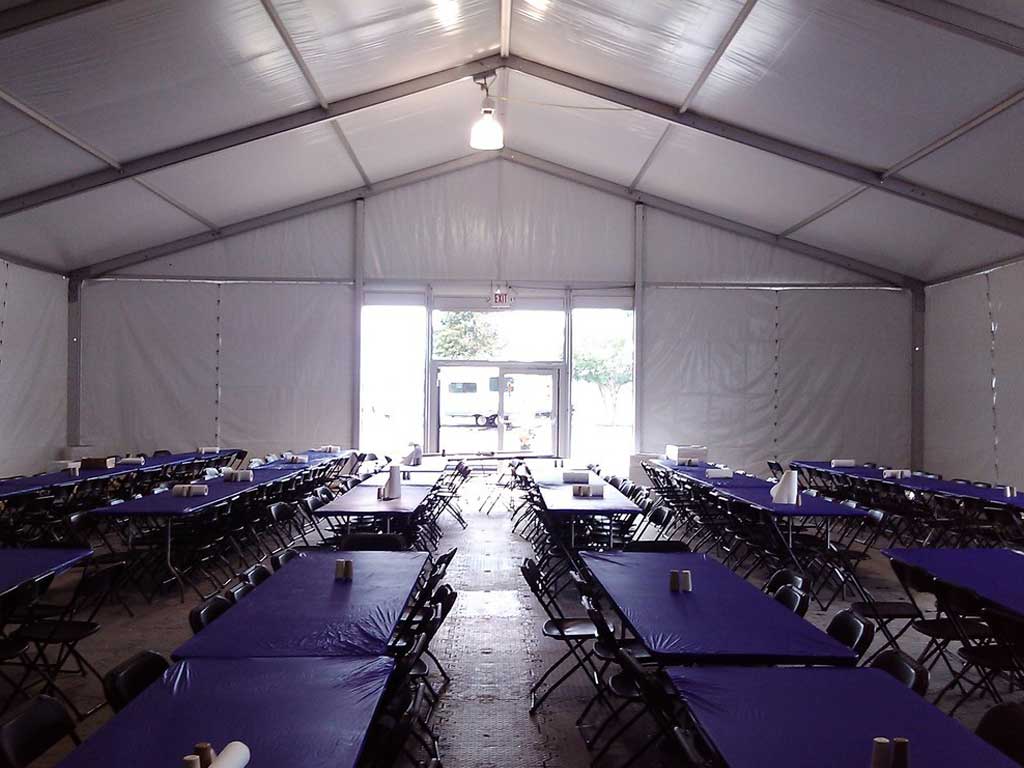 Tents and Structures can be used for the following purposes:
Drive Thru Screening Centers and Examinations: Temporary buildings or structures can be installed to allow patients to drive through the tent and receive screenings and examinations. This will minimize the contact between hospital staff members and patients, which will in turn reduce exposure and keep the community healthy. Our clearspan structures can be erected virtually anywhere.
Patient Screening Facility: Temporary structures can serve as patient screening areas before patients enter sterile treatment areas.
Temporary Hospital Shelter: Our engineered temporary structures can serve as shelters for overcrowded hospitals or medical centers.
Dry Storage: Inventory overflow, or palletized goods can be stored underneath our clearspan structures. These structures can also be heated & cooled, if needed.

Our list of services continues to grow by the day as our Clients look for a company that takes Pride in everything they do. The services and equipment we provide are the best the industry has to offer, without sacrifice.
Disaster Relief Services provided include…
PLANNING
Consulting
Parking & Traffic Plan Design
Site CAD Drawings
Site Plan Design & Layout
AERIAL PHOTOGRAPHY
Full Site Images
Time Lapse
Traffic Flow and Patterns
A/C - COOLING
1 ton to 50 ton A/C Units
Evaporative Coolers
Misting Systems
Portable A/C Units
Tent Air Conditioning
A/C - HEATING
Forced Heat Blowers
Portable Heating Units
Tent Heating Systems
Umbrella Heaters
A/V SYSTEMS & EQUIPMENT
Full Sound Systems
Jumbotrons & LED Screens
Public Address Systems
Video Conferencing
CARTS
Flatbeds & Utility Carts
Golf Carts & Trailers
(Gators / Mules / Rhinos)
Villager Carts (6 passenger)
CHAIRS
Picnic Tables
Poly Folding Chairs
Wood/Resin Folding
Padded Chairs
COMMUNICATION
2-Way Radios
Base Stations & Vehicle Units
Headsets & Hand Microphones
Repeaters & Digital Equipment
CROWD CONTROL
Chain Link Event Fence
Crowd Control Fence (Bike Rack)
Metal Detectors
Turnstiles & Entrance Channelization
White/Black Stanchions with Poly Chain
DUST CONTROL
Dust Abatement Solutions
Water Spray Trailers
Water Trucks
FENCING
Chain Link Event Fence
Crowd Control Fence
Portable Secure Panels
Screening - Black/Green/Tan
FLOORING
Concert Poly Flooring
Custom Decking & Leveling
Stageright™ & BilJax Flooring Systems
FOOD & BEVERAGES
Purified Bottled Water
Sports Drinks
Bagged Ice
Ice Storage Trailers
MRE - Made Ready to Eat
GENERATORS / POWER DISTRIBUTION
24 Hours / 365 Days On-Call Technicians
6kW to 2,000kW:
Any Size for Any Job
Cable Ramps
Enormous Cable Inventory
Generator / Light Tower Units
Light Towers
QuadBox Stringers & Spider Boxes
Specialty Power Distribution Equipment
Temporary Power
Transformers - 15kVa to 150 kVa
LIGHTING EQUIPMENT
Light Towers
Site Lighting
Tent Lighting
MEDICAL SERVICES
Cots & Bedding
EMT (Emergency Medical Technicians)
First Aid Stations
MOBILE RESTROOM SUITES
Impeccable Brand New Units
King / Queen / Knight Series
Multiple Sizes
Self Contained
Solar Powered
PARKING SERVICES
Directed Parking
Lot and Traffic Flow Design
PERSONAL PROTECTION EQUIPMENT
Antibacterial Soaps / Foams
Goggles and Masks
Hand Sanitizers
Industrial / Medical Gloves
RESTROOMS
ADA Accessible Units
Hand Sinks & Sanitizers
Mobile Restroom Suites
Mobile Shower Facilities
Portable Toilets
SECURITY SERVICES
DPS License #1629285
ID Verification
Overnight & 24 Hours
Security Plans & Designs
Security Guards
SIGNS/GRAPHICS/BANNERS
All Types of Signs
Sign Stands
Directional Signs & Banners
Maps & Directions
Full Digital Color
On-Site Services Available
Parking Passes / Hangtags
TABLES
Banquet Tables
Picnic Tables
Round & Square Tables
Serpentine Buffet Tables
TENTS & STRUCTURES
Any Size Tent for Any Application
Clearspan Structures
Festival Style
Milspec Triage / Shelter
win Pole Style
TRAFFIC BARRICADES
ATSSA Certified
Cones, Vertical Panels, Barrels
Dynamic Message Boards
K-Wall, Jersey & Water Barriers
Road Closures
Traffic Control Plans
TRANSPORTATION
Buses & Shuttle Vans
Executive Transportation
Shuttle Systems
Trolleys